Only an Immortal can create a Vitae Gem, however both Mystics and Immortals can fill and heal from them.  Mortals and Non-Players cannot use a Vitae Gem.  A Vitae Gem is a mod/no-copy/trans item, so they may be transferred between players or sold.
You can request a Vitae Gem pack through your HUD by clicking on the Extras button: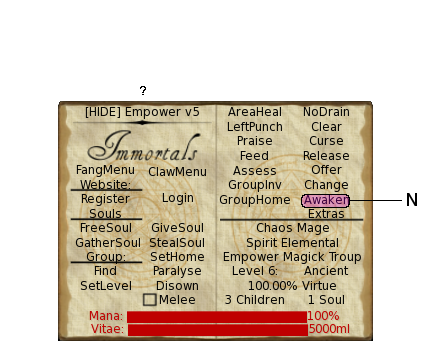 The pack contains a variety of scripted Vitae Gems along with a copy of the Vitae Gem script which you may place in any modifiable object.  The script is no-copy, so when you place it in an object, that object becomes no-copy.
Vitae Gems are a strength 1 device and all transfers into or out of the Gem are adjusted by the strength of the player, as shown in the following table:
| Strength | To Gem | From Gem |
| --- | --- | --- |
| 1 | Same | Same |
| 2 | Multiplied by 2 | Divided by 2 |
| 3 | Multiplied by 3 | Divided by 3 |
| 4 | Multiplied by 4 | Divided by 4 |
So a strength 2 player with 3000 Vitae who uses a Gem to heal will need 4000 vitae from the Gem, which when divided by their Strength of 2 gives them the 2000 Vitae they need.
When using a Vitae Gem to resurrect a revenant, 3500 Vitae is burnt to resurrect the revenant.  This is not scaled by strength.
Vitae Gems retain all unused Vitae after a heal.
Gems can be set to one of three modes by their owner:
Private – The Vitae Gem can only be used by its owner
Group – The Vitae Gem can be used by anyone in the same SL ™ group as the Vitae Gem
Public – anyone can use the Vitae Gem
When a non-owner accesses a Vitae Gem in Group or Public mode, they can perform the following operations:
Only the owner of the Vitae Gem will be able to perform the following operations:
Activate (nightly drain will come from the Vitae Gem if the owner is Undead)
Deactive (nightly drain will not affect the Vitae Gem)
Public (set the Gem to Public mode)
Group (set the Gem to Group mode)
Private (set the Gem to Private mode)