The first time you wear your Empower Immortals HUD, or allow an Immortal to Awaken or Feed from you, a character will be created for you.  This will default to Mystic or Immortal with 5000 Vitae, unless you have previously allowed and Immortal to feed from you, in which case your Vitae may be lower.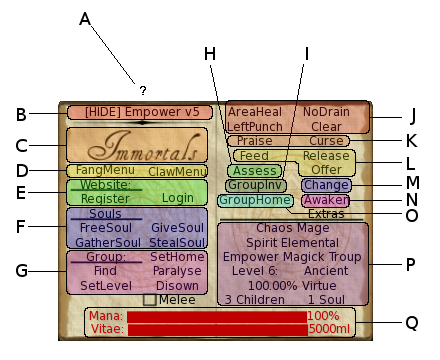 Click the Image above for more detail on how to use the HUD itself
Particle Relays (Immortals only)
When you wear the Immortals HUD for the first time it will offer you a choice of Particle Relays, with or without meter.  These allow the HUD to generate particles when you perform certain actions, such as Praise, Curse, Changing.  Wear the relay "with meter" or the wand if you wish to have your Species and Vitae displayed in-world.
Logging in to this web site
Once you are wearing your HUD, click the Register button on the left page (or Immort->[MORE]->Register if you are using the Empower Magick integrated version).
This will create an account for you on this website and notify you of your password privately in local chat.
You can then login here using the login form in the left sidebar of the website.
NOTE: If you have a single SL name with a last name of Resident (e.g. Someone Resident) you must include your last name of Resident when logging in here.
You will be able to reset your password and specify an email address that the website will send notices to (e.g. for forum notifications and website based password resets).
If you can't find the page for setting your password and email address, it is accessible by clicking "Your Profile" in the left sidebar.
If at any point you forget your website password, you can use Register on the HUD to reset it and then follow the above steps to set it to something memorable again.
Selecting your character type (Species)
You may now select your species type one of three ways:
1. Choosing your Species on this website (Immortals and Mystics)
Click the Modify Character link in the left sidebar of this web site, then follow the instructions on the page to select your Species, Elemental Alignment and Abilities.  As a new Immortal or Mystic you can alter these settings freely for the first five days.  After that you will only be able to make changes once every 48 hours.
2. Reset your Character (Immortals and Mystics)
Click the View Character link in the left sidebar of this web site, then click the Reset link at the top of the page and follow the instructions.  This will reset all of your character's stats and you will be "reborn" as the new Species you select.  You may then wish to use the Modify Character link listed above to further customise your character.
3. Being changed in-world (Immortals only)
You can choose to change in-world by finding someone you know of the appropriate species and having them change you (assuming they are contagious – e.g. Vampires, Lycans).  You can search for others of the Species you wish to be by using the Character List link on the left hand sidebar, then contact them in-world and ask them to change you.  Be aware that not everyone will welcome requests to be changed from people they do not know.
NEXT: Refreshing the Info Display